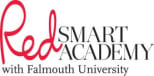 Red Smart Academy With Falmouth University
Home ›
Red Smart Academy With Falmouth University
Work Smarter with Red Smart Academy's short, online courses
Whether you're looking to upskill, build your confidence, get a promotion, or start your own business, our online short courses will make sure you have the skills and know-how you need to stand out from the crowd.
Developed through a partnership between Red Magazine and one of the UK's leading creative universities, Falmouth University, the courses combine the best of both worlds, engaging content and industry-leading teaching along with a down-to-earth approach and up-to-date trends and insights.

Short courses to help you stand out from the crowd
Join one of our courses and benefit from:
Quality
A challenging and exciting learning experience
Flexibility
Study online, where and when it suits you
Prestige
Certificate from a world-renowned University

Get ready to learn and grow
Our online short courses provide you with a uniquely engaging and exciting learning experience, through a combination of expert guidance and regular feedback from your tutor, as well as the opportunity to collaborate and share ideas with peers from around the country, and even around the globe.
The course content includes presentations, interviews and case studies to ensure you understand and can apply what you're learning in a real-life setting with topics broken down into manageable chunks and made available to you on a weekly basis.
You'll learn, interact and collaborate with your classmates to open up your knowledge and skills to a range of perspectives and new opportunities.
You can expect one hour of presented, online content with around 4 hours of self-study each week required to complete the content.

At a glance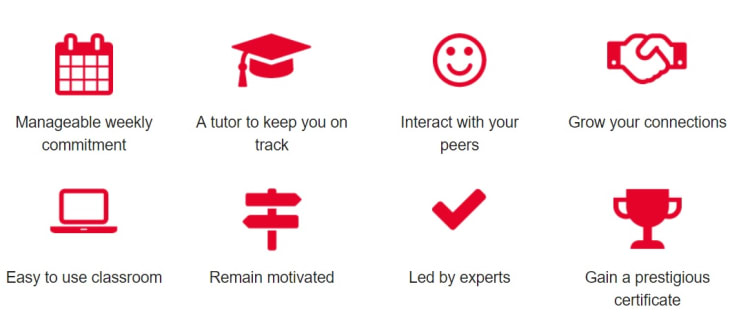 Your online classroom
An easy-to-use, intuitive interface will become your online classroom. Here, you'll have access to the diverse range of materials that'll support and deliver your learning; all of which you'll be guided through by your expert tutor.
You'll never feel alone in your online classroom. You'll be interacting, questioning and engaging regularly with your peers on the course as well as with your tutor.
Ask the questions you need to when you want to, and gain valuable insights and perspectives from your peers as you share experiences, ideas and thoughts.

Get started
Be part of a unique online learning experience and open up new opportunities for you and your business.
Locations
Falmouth
Address
Woodlane
TR11 4RH
Falmouth
,
England
,
United Kingdom