Master in
Master in Neuromarketing
UNIR - Mexico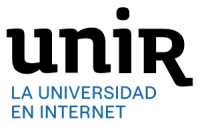 Introduction
The only Master in Neuromarketing 100% online and official
Duration: 18 months
Online exams
Credits: 86
Methodology: 100% online education
Live Online Classes
Personal tutor
This master's degree will enable you to analyze the tastes of clients when making decisions based on the emotional and sensory part.
The Master in Neuromarketing will provide you with the necessary knowledge to optimize advertising campaigns and adjust the messages to your preferences at the time of purchase.
It is the only master's degree based on a unique and perfect combination of pioneering tools and methodologies in the United States and Europe, linking them with leading professionals and companies in neuromarketing.
"The occupancy rate for graduates in the marketing and advertising area is 94.1%," according to the Mexican Institute for Competitiveness (IMCO).
It will allow you to deepen your knowledge within the virtual teaching laboratory in which you will learn all the tools and methodologies used by neuromarketing .
goals
You will learn to:
Design and contrast marketing strategies applying neuroscience.
Analyze the environment as an object of study and discern which neuromarketing techniques and strategies are the most appropriate.
Structure and analyze the information available through neuromarketing techniques to obtain the relevant conclusions and derive the consequences that these have for business strategies .
Identify consumer preferences and tastes to optimize advertising campaigns based on them.
Use neuro - qualitative technological tools in a practical way, through a virtual laboratory with workshops and software such as TAI, Eyetracking, Facialcoding and EEG.
Labor field
The job skills for which the Master in Neuromarketing at UNIR Mexico prepares you are:
Marketing departments, advertising agencies or consultants.
Business intelligence departments in companies dedicated to market research.
Consumer experience studies.
Laboratories and neuromarketing service providers.
The training of new generations in universities and business schools.
Access requirements
To be able to access this Master's degree, it is essential to have:
Total certificate of studies or bachelor's degree in Business Administration and Management and / or areas related to Marketing, Communication, Advertising and Psychology.
Be a graduate of a degree or a bachelor's degree in which skills related to the area of study are developed.
If you are a candidate from other degrees, meet the criteria of UNIR Mexico.
Double Mexican and European title
At UNIR Mexico we know that it is important to have an international profile. For this reason, at the end of your Master's Degree you will get a double degree that will make your CV more attractive:
Official Mexican master's degree endorsed by the SEP and awarded by UNIR Mexico.
Own European Master granted by the International University of La Rioja, Spain.
Graduate profile
Graduates of the Master in Neuromarketing will have knowledge, skills, attitudes and skills related to:
Scientific bases of neuromarketing.
Concepts and mechanisms of neuroscience applied to marketing.
Neuroscience and biometrics techniques for marketing.
Sensory and experiential marketing.
Neuromarketing applied in market research.
The consumer and his behavior or professional deontology in neuromarketing.
Neuromarketing and new technologies.
Curriculum
First semester
Scientific Bases of Neuromarketing (9 credits)
Neuroscience and Biometry Techniques for Neuromarketing (9 credits)
Neuroscience and Marketing (9 credits)
Research Methodology (5 credits)
Second semester
Sensory and Experiential Marketing (9 credits)
Applied Neuromarketing (9 credits)
Neuromarketing and New Technologies (9 credits)
Third semester
The Consumer and their Behavior (9 credits)
Professional Deontology in Neuromarketing (9 credits)
Final Master's Project (9 credits)
Total: 86 credits
Methodology
Live online classes
Students can attend live online classes every day . During these sessions, students will be able to interact with the teacher and solve their queries in real time.
In addition, all classes are recorded so that if students cannot attend they will see them delayed as many times as they want.
Didactic resources
The UNIR virtual campus provides a wide variety of content with which to study each subject. These materials are organized in a way that facilitates agile and effective learning.
In it, students will find: the topics, key ideas, complementary audiovisual material, activities, readings, evaluation tests, forums, chats, blogs and access to master classes on specific topics.
Personal tutor
At UNIR, each student has a personal tutor from day one, always available by phone or email. The tutors offer personalized attention by constantly monitoring each student.
The personal tutor:
Solve doubts about academic procedures, procedures or specific doubts about subjects.
Helps with study planning to make better use of time.
Recommend which didactic resources of the platform to use in each case.
He is involved with the students' studies to help them pass each subject.
Evaluation system
At UNIR the daily effort of the students is valued and rewarded. That is why passing a bachelor's degree is based on:
Continuous evaluation (resolution of practical cases, participation in forums, debates and other collaborative means and evaluation test).
Online exams.
The UNIR methodology is the main value for our students. It allows them to study wherever they are in a flexible and compatible way with their daily lives. In addition, they can interact, relate and share experiences with their classmates and professors just like in the face-to-face university.