Online Master of Science in International Management
Home ›
MSc ›
Online Master of Science in International Management
Program Description
Master of Science in International Management
Being able to conduct business internationally is crucial to the modern business world. With this in mind, we, at the Montreux Business University, designed the Master of Science in International Management. This program will broaden the business and human-centered skills of our students, as well as cover the main functional areas of management to offer a cohesive understanding of management and businesses. In addition to that, the MSc in International Management will provide a highly integrated study of business and management; develop an understanding of the changing nature of the links between organizations and the external environment in which they operate. By developing job-related skills of our students and exposing them to real-life problems, corporate visits and seminars delivered by executives, researchers, and academics who are at the forefront of knowledge, this program will enhance the employability of our graduates and assist them in their first steps of employment or internship.
Facts
Duration: 1 year (3 semesters) + 6-month internship and thesis
Credits: 60 US credits / 90 ECTS
Specializations:
Finance
Marketing
International Management
Human Resources Management
Intakes: September / January / April
Program language: English
Diploma: Internationally recognized ACBSP accredited Masters' diploma
Program Pathway
Students in the Master of Science in International Management have the opportunity to specialize in:
Finance
Marketing
International Management
Human Resources Management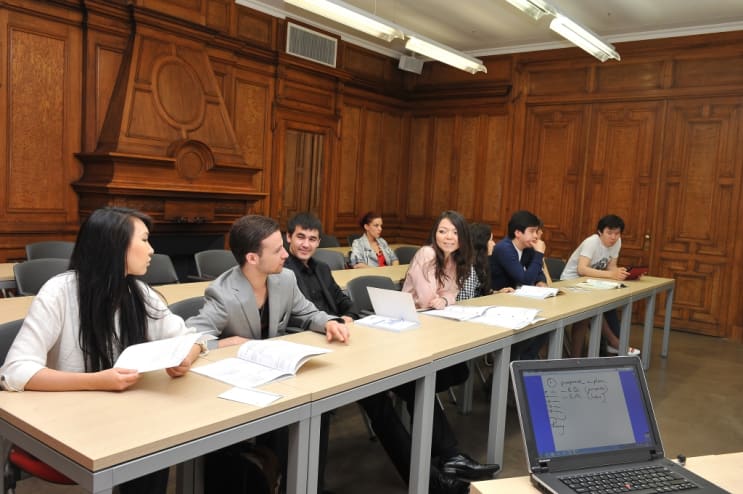 Study Abroad Trip
Once a year, we organize a study-abroad trip for MSc students to one of our partner universities. Students have the opportunity to meet other students from more than 17 different nationalities with over 100 participants for a special management training focused on real-life case studies and activities which involve leadership, creativity, finance, marketing, and management tools.
Curriculum Guidelines
MSC COURSES ELECTIVES – HRM ELECTIVES – MARKETING ELECTIVES - FINANCE Innovation & Technology HR Information Systems & Analytics International Marketing International Finance Strategic Management Coaching & Mentoring Corporate Communications Professional Standards & Ethics International Accounting Performance Management & Metrics Negotiations Financial Reporting & Analysis International Human Resources Management Total Rewards Systems Digital Marketing Fixed Income & Equity Investments Corporate Finance Management Strategic Workplace Planning Production Management Derivatives, Hedge Funds & Managed Futures Global Economics HRM in Growing Organizations Consumer Behavior Portfolio Management Business Simulation Game HRM in Emerging Economies Advertising & Branding Risk & Risk Management Throughout the last two semesters of their studies, our MSc students have the opportunity to choose electives from any of the three specializations we offer at the Montreux Business University. The students have to have a minimum of three electives of one of the offered pathways in order to have a specialization. If the students do not have the minimum of three electives from one pathway, they will be awarded the Master of Science in International Management, which is the generic pathway.


Admission requirements
Completed and signed application form
English language proficiency test
Since English is the language of instruction at MBU, applicants whose first language is not English must take an English language proficiency test.

IMPORTANT:
Students with insufficient knowledge of the language must take intensive English courses at the MBU Language Studies Center until they meet the English language proficiency requirements for admission. Students will be charged additional fees for these ESL courses.
Bachelor's Degree and the Official Academic Transcript
Bachelor's Degree in business or another discipline and official academic transcript Students with a non-business degree should contact the admissions department.
Two letters of recommendation (one of the letters should be from an academic source)
Letter of intent (500 words minimum)
CV
Scanned copy of passport
6 passport photos
Pre-Master's:

Students who have a non-business degree may have to pursue a Pre-Master's program for a period of one to two semesters (three to six months) to prepare for the MBA or the MSc pathway.
How to apply?
Send us an e-mail to admissions@mbuniversity.ch
If you need assistance, have any questions or require additional information, send us an e-mail to admissions@mbuniversity.ch
After you have sent all of your application documents to MBU, you will get an answer from the Admissions Department within a week.

We strongly advise you to send your applications as soon as possible in order to ensure your space at MBU.
Visa Procedure
Once your application has been approved by the Admissions Department of MBU, as well as the Dean, we will send you a scanned copy of your acceptance letter and the invoice.

After receiving your proof of payment, we will send the original acceptance letter to the Embassy of Switzerland in your country and we will let you know. You would have to make an appointment at the embassy as soon as possible. IMPORTANT: The visa procedure can take from 6 to 12 weeks, depending on your country of origin, therefore we strongly advise you to apply way ahead of the start of the semesters.
Exchange
At MBU, global education has been integrated into the curriculum. Therefore, MBU students can participate in an array of global education programs such as the international students' exchange program, which will enrich their learning experience at university and help them build lifetime relationships.

Thanks to our international cooperation with other universities, our students have a choice to go and study for one semester at any of the following universities:


HHL Leipzig Graduate School of Management / Leipzig, Germany
Solbridge International School of Business / Daejeon, South Korea
IEDC Bled School of Management / Bled, Slovenia
University of Business & Technology / Jeddah, Saudi Arabia
ALMA Almaty Management University / Almaty, Kazakhstan
EDC Paris Business School / Paris, France
ESC Pau Business School / Pau, France
MBWay Management & Business School / 14 campuses around France
Ural Federal University Graduate School of Economics / Ekaterinburg, Russia
University of West Alabama / Livingston, AL, USA
Aarhus University / Aarhus, Denmark
JAMK University of Applied Sciences / Jyvaskyla, Finland
Wendesheim University of Applied Sciences / Zwolle, The Netherlands
Lomonosov Moscow State University Business School / Moscow, Russia
Academic & Career Advising
At Montreux Business University, we care about your future career! That is why we provide a vast variety of academic and career advising services to counsel and guide you during your studies at MBU, as well as after you graduate.


Discuss your academic progress with you;
Help you define your career goals;
Based on your strengths and weaknesses, find appropriate career opportunities.
As an MBU student, you will become a lifelong member of the MBU Alumni Network, which will give you the right to benefit from any alumni mentoring programs, while keeping you connected and involved with your university.
Housing
Our housing service helps students find a furnished apartment in Montreux or its surrounding areas. The monthly rent for a furnished studio varies between 1'200 and 1'900 Swiss francs. Do not hesitate to contact us for any further assistance.
Students' Experience
"Just give a 100% of yourself and don't worry you will not be left alone at MBU!"
Yulia Bulimova (Russia), MSc Alumni class of 2014

"I really enjoyed the professors that are teaching at MBU as they have a strong practical background. There is a very positive energy at MBU, the staff members are very supportive and the atmosphere is very international."
Fabienne Gaberle (Germany), MSc exchange student from HHL
Tuition Fees
EU and Swiss Citizens International Students

CHF 27,000 / year CHF 33,000 / year

Our MSc tuition fees include:


Administration fees
Visa fees
Study abroad trip – tuition fees
MBU special events
an advance payment of CHF 2'000 which will be deducted from the general fee
Additional Fees:


Application fee (CHF 150)
Health Insurance (CHF 1'000 – required)
Textbooks and e-books (CHF 800 – optional)
Master Thesis (CHF 2'500 – required)
Scholarships
MBU seeks to have well-qualified students and will offer up to CHF 7,500 to support excelling students in their final year of studies with a cumulative GPA of 3.5 and above.
Student loans
Students can apply for different loans available in their own countries and are eligible to apply for their studies at MBU. American students can also apply for a Stafford Loan Program.
Tuition Payment Policy
Full payment of the tuition fees is due upon receipt of the acceptance letter and invoice and prior to the student's appointment at the Embassy.

For all EU and Swiss citizens: tuition fees are to be paid in full upon receipt of the invoice.
Last updated Nov 2017
About the School
We thrive to be innovative – MBU blends traditional business education with a holistic approach, arming our students with both "hard" and "soft" skills. We are also using cutting edge technology. Our ... Read More
We thrive to be innovative – MBU blends traditional business education with a holistic approach, arming our students with both "hard" and "soft" skills. We are also using cutting edge technology. Our students have access to Segways and Gigabit Internet, wirelessly. The whole University is fitted with Smartboards, and we have casting devices (DLNA, Apple TV, Chromecast) in every room.
Read less